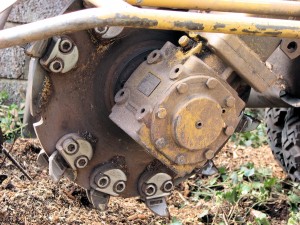 Let us grind your yard's unsightly stumps and roots in order to enhance your landscape.
After tree is downed, either by choice or by nature, the stump that remains can detract from the beautiful landscape of your yard.
You can spend all day digging out the stump using axes, shovels, picks or chain saws only to find you're not getting anywhere.
Instead, let the experts at Hicks Tree Service help you grind that stump and root. We do the job quickly at wallet friendly prices.
We have the proper equipment to do any size job without damaging your landscape. We grind below the ground level to a foot a foot and a half or more if necessary.
For fast and effective stump grinding work, call the quality experts
at

Hicks Tree Service

at 919-801-4020 or email hickstree@yahoo.com.