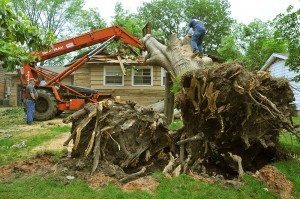 Complete Tree Cutting Services in Wake County, NC
We safely cut and remove your unwanted or dead trees and beautify the empty space left behind.
Trees beautify our landscape, shade us from sunny days and provide our home with character and charm. But very often, you may find that some of your trees need to be removed for safety or aesthetic reasons. Removing dead trees on your property can be important for several reasons. Dead trees can be a safety hazard, as they may be more prone to falling or breaking and can pose a risk to people and structures on the property. They can also be unsightly and may decrease the value of your property. 
Your Local Tree Removal Company
If you have a dead tree on your property that you need to remove, it is generally a good idea to hire a professional tree service to handle the job. Tree removal can be a dangerous task, and it is important to have the proper equipment and training to do it safely. A professional tree service will have the expertise and experience to remove the tree safely and efficiently, and will also be able to properly dispose of the tree and any debris that may result from the removal.
Hicks Tree Service's complete tree removal makes that daunting task simple.
We will come to your home, review your needs and offer recommendations for a smooth project.

We then cut the tree, remove it and enhance the look of the vacant space left by the tree.

We can even turn your tree limbs into chips that you can keep and use.
We are careful to ensure there is no damage to your property, home or family and provide quality work and strive to ensure we are adding to the look of your yard rather than taking away from it.
Do I need a permit to cut down a tree on my property in NC?
Normally you can remove any tree that is wholly on your private property without the city's interference but the guidelines can get a bit confusing at times. The specific requirements for obtaining a tree removal permit may vary depending on the location of the property and the size and type of tree being removed. In some cases, it may be necessary to have a certified arborist assess the tree and provide a recommendation for removal. It is also important to be aware of any local ordinances or regulations that may apply to tree removal on your property.
In general, it is a good idea to check with your local government or planning department to determine the specific requirements for obtaining a tree removal permit in your area. They will be able to provide you with information on the process for obtaining a permit, as well as any fees or other requirements that may apply.
Serving Apex, Cary, Fuquay-Varina & the Holly Springs Area
For quality work at wallet friendly prices, call Hicks Tree Service
at 919-801-4020 or email hickstree@yahoo.com.